| | |
| --- | --- |
| ㆍDate | 2020-04-30 (목) 15:12 |
| ㆍCategory | Solo |
Kang, Hosaeng / 19th Solo Exhibition
Kang, Hosaeng /19th Solo Exhibition
Kang Hosaeng Solo Exhibition :: Painting
Calling of Life


Calling of Life 20200303
60×77×5.5cm-Acrylic color on the Fabric-2020


▶ 2020. 05. 14 ~ 2020. 05. 22
▶ 2020. 05. 14 PM 5:00
▶ Open 10:00 ~ Close 19:00
▶ Cheongju Art Center, Korea





Calling of Life 20200101
118.5×118.5×5.5cm-Acrylic color on the Fabric-2020



Calling of Life 20200108
118.5×118.5×5.5cm-Acrylic color on the Fabric-2020



Calling of Life 20200202
118.5×118.5×5.5cm-Acrylic color on the Fabric-2020



Calling of Life 20200318
60×77×5.5cm-Acrylic color on the Fabric-2020



Calling of Life 202004031
43×60×5.5cm-Acrylic color on the Fabric-2020



Calling of Life 202004084
43×60×5.5cm-Acrylic color on the Fabric-2020



Calling of Life



Kang, Hosaeng



The vulnerability of Korea's art community has made it difficult for artists here to survive on their art alone, and yet for nearly four decades, I have never let go of his passion for painting and has continued to showcase fresh and breathtaking pieces of art. I had my seventh solo exhibition in 2007 at the Cheongju Arts Center, in the large exhibition room, and is back to showcase my newest pieces of work this May. I sometimes wondered, throughout my career, if I had ever experienced any feelings of true happyness from sticking to the artist's path with diligence and honesty. Also I have shed a lot of tears while making my works so far.

I can compromise on every taste, but has never comprised on matters going against my morals. Those firm values eventually made me an artist who feels most comfortable being alone for contemplation. "I have been lost in my thoughts for a long time. Penetrating to an abyss, the act of repeating a life that constantly asks and answers the inner self has made me be filled with anguish that has left a trail of pain." Throughout this process, I said, I discovered my eagerness for prayer and the thirst for knowing, 'The Calling of Life.

I have lived a religious life, from my childhood and has kept pondering the meaning of life constantly. 'What on earth is my true calling? What is representation?'
The traces of such notions are showed distinctly in 19th solo exhibition. I utilized the elements such as spheres, water column, atypical white margins, and colors to represent the traces of the life. Indian ink, which neutralizes shapes and colors, is an essential requirement for my work in which has always accompanied margins.

This big exhibition in May will feature 130 works of art and be divided into two sections and displays: PART I is for Color Indian ink & PART II is for Indian ink.

===========================
Next section_My friend Vicki.


Vicki01-18×21.5cm-Korean paper+Indian ink-2020



Vicki02-34×44.5cm-Korean paper+Indian ink-2020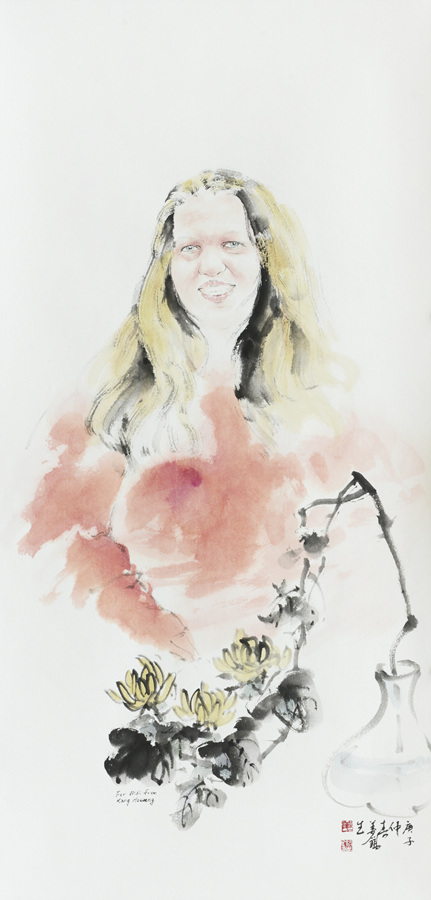 Vicki03-68×32.5cm-Korean paper+Indian ink-2020



Vicki04-112×35.5cm-Korean paper+Indian ink-2020

| | |
| --- | --- |
| | |